6′ Shade Cover

*

6′ x 4′
$56.16
6′ x 6′
$66.06
6′ x 8′
$74.92
6′ x 10′
$85.92
6′ x 12′
$95.73
6′ x 14′
$106.20
6′ x 16′
$116.67
6′ x 18′
$121.90
6′ x 20′
$131.79
10′ Shade Covers

*

10′ x 10′
$91.33
10′ x 12′
$115.95
10′ x 14′
$138.27
10′ x 16′
$157.00
10′ x 18′
$172.50
10′ x 20′
$178.32
14′ Shade Covers

*

14′ x 14′
$254.52
14′ x 16′
$259.93
14′ x 18′
$265.06
14′ x 20′
$304.37
18′ Shade Covers

*

18′ x 18′
$330.71
18′ x 20′
$338.27
| | |
| --- | --- |
| 20′ Shade Covers | |
| 20′ x 20′ | $371.54 |
| | |
| --- | --- |
| Kennel Roof Kits | |
| 6′ x 4′ | $98.86 |
| 6′ x 6′ | $120.86 |
| 6′ x 8′ | $134.98 |
| 6′ x 10′ | $164.80 |
| 7.5′ x 7.5′ | $153.84 |
| 10′ x 10′ | $143.78 |
| | |
Kennel Anchor Kits – $64.12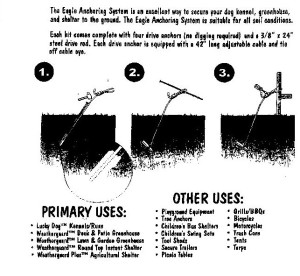 *We STRONGLY recommend an anchor kit with purchase of our Solid Top Kits to avoid damage to property and others in the event of high wind.
*Your new Shade Cover is made for you at the time you place your order and cannot be returned for replacement, or refund.
*If you are covering multiple runs be sure to add the extra spacing between the panels created by the saddle clamps.
*We try very hard to keep these pages updated, but prices are subject to change without notice.