As you browse the various pages of our online store we are sure questions will arise concern the materials, and construction of our various kennel sizes, and grades. Since 1993 we have helped 1000's of people just like you choose, and design their kennel size, or grade to suit their particular needs. We don't just sell dog kennels. We have actually used the products we sell since 1985 with our own Champion Labrador Retrievers. We know what it takes to keep a dog in a kennel. We also know you can go down to the farm store and buy a kennel to put your dog in. We have those, too, but is it the right one. Our kennel panels may cost a little more, but can you really put a price on the safety, and well being of your beloved pet, or a clients expensive hunting dog. Would you rather fix a kennel every time you turn around, or purchase a kennel that is going to give you 20 or more years of service with only keeping it clean. With customer service that is second to none, and the product knowledge we have gained since 1993 we treat people the way we want to be treated, and are committed to providing the best, most hassle free buying experience possible. We are never too busy to answer any questions you may have, so please feel free to call any time.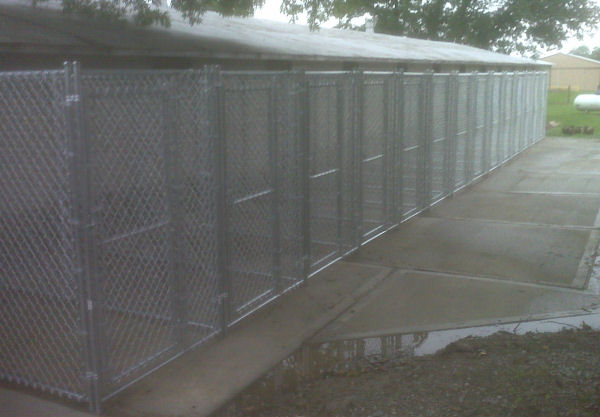 Outside Kennel Runs at Randolph County Humane Society in Sparta, Illinois
Light Duty
Add the correct number of kennel panels, necessary installation parts, and accessories to create your desired kennel design. Kennel panels may be installed in lengths longer than 8′ simply by bolting multiple panels together.  Longer panels may be picked up at our shop, or see our Multi-Runs pages.
Light Duty Kennel Features:
11-1/2 gauge galvanized chain link 2-1/2″ mesh
1-3/8″ O.D. 16 gauge (.065 wall) galvanized, welded frame
Tension Rods and gate clips at terminals
Aluminum ties spaced 18″ on top rails
Aluminum ties spaced 12″ on bottom rails
*Panels are shipped ready to install *PP=plain panel GP= gate panel 
When ordering parts for installation you will need:
2 Saddle Clamps per Panel Connection
1- 5/16"x 1-1/4" Carriage Bolt /Nut per saddle clamp.
1 – 5/16"x1 ¼" Carriage Bolt/nut for each tension band
1- cap for each upright, and 2 per gate.
Don't forget a shade cover for your new kennel!