My name is Debbie. I am the Owner of Happy Tails Enterprises.
During my years growing up I have had many types of animals in my life. From the exotic to the more common, they have always come first. After school, before homework and supper, I made sure I spent quality time with them, and made sure they were fed and watered. Most of the time when kids want pets their parents end up taking on the responsibility of caring for them but that wasn't the case with me. They were mine, and I wanted to spend as much time with them as I could, and it showed. They were my best friends.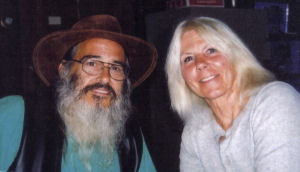 When I got married my life did not change. All I did was add a husband. Thank goodness Tom enjoyed animals as much as I did. It all worked great. Especially when one day I decided I wanted a Great Dane. He had no objections. Through the purchase of one I became good friends with the breeder, who also being a Dog Groomer, and after a period of time getting to know each other, taught me how to groom all breeds of dogs. I worked with her for 2 years before going on my own and my grooming career lasted a little over 25 years. Due to a medical condition with my hands I had to give it up, but it was quite an experience. It's a job that's not for everyone. You experience different temperaments from good to not so good, and you have to know how to handle them all in order to do a good job. I always considered grooming as precision cutting, and trimming, rather than just clipping dogs. The finished product always showed the pride I took in my work.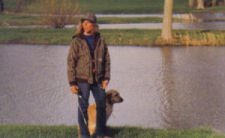 During these 25 years I got a little more involved in expanding my knowledge of the animal world by going to work at a Veterinary Hospital. I worked at the animal clinic in the mornings and groomed in the afternoons. I did everything from receptionist to assisting in both the exams, and surgery. There were several times I even acted as an ambulance if someone would call with an emergency, and had no way to get their ill, or injured pet to the clinic. After all, it wasn't like my vehicle wasn't use to having animals in it.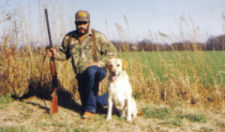 Tom and I bred, raised, trained, and competed in Gun Dog tests with our Labrador Retrievers through the Hunting Retriever Club. We both were also Licensed Judges, traveling to many states running, and or judging these events for a span of 15 years. We both are founding members of Retrievers Unlimited Hunting Retriever Club based out of Belleville, Illinois. The Champions we had were trained by us, and not a professional which gave us a lot of pride in what we were able to accomplish, considering we were running against a lot of professional trainers. The H.R.C. was a great world in which to be a part. Tom, and I were involved with the Labradors for approximately 20 years.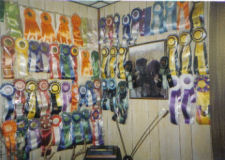 I gave up my job at the Animal Hospital in 2000 after 18 1/2 years due to travel distance, and because I wanted to go out on my own. I took everything I learned through the years of experience with both animals, and people, and created Happy Tails Pet Supply, which through the years, has evolved to become Happy Tails Enterprises.
The breed I have now is Miniature Dachshunds which seem to touch the hearts of everyone. These little German dogs are excellent companions, and family dogs.
I also have portable kennels for purchase to anyone who wants to ensure the safety of their pets and portable buildings for added extra storage for anyone who seems to have run out of space.
Please enjoy your time browsing through Happy Tails Enterprises web site. If you have any questions please feel free to contact us any time.