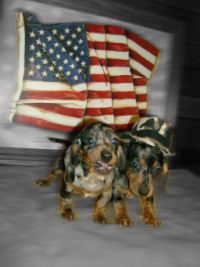 Welcome to our world of Miniature Dachshunds. Our Miniature Dachshunds are a very important part of our lives. I do everything in my power to make sure my Dachshund babies are healthy, and well socialized before they enter the lives of their new families. It's a stress on each and every Doxie baby to be taken from a home that they're familiar with ,and placed in new surroundings, people, sounds and most of all smells.
Our Doxie babies do not leave our home until we feel that they are able to handle the move. Each of our puppies is different. During weaning time some puppies could care less while others tend to be sucky babies, and require more attention to get through this phase in their lives.
Our Miniature Dachshund babies are weaned from their Moms, usually between 6 and 7 weeks, have received their 1st vaccinations, 2 precautionary de-worming's, a stool check to make sure there are no internal parasites, eating dry food and are carrying good weight before they are allowed to leave.
Our Miniature Dachshund puppies are sent to their new families accompanied by a complete vaccination record, as well as a written health guarantee.
The date that is given anyone for pick-up of their Mini- Dachshund baby is only tentative, as each one is unique. This is for the sake of the puppy 1st, the new owner 2nd, and us.
We do not allow anyone in to see our Doxie babies until they are ready to leave for their new home. This is strictly for disease prevention purposes, and because not all Dachshund moms are willing to allow strangers around their babies. Some Dachshunds can unintentionally injure their babies just doing what they feel is protecting them. I worked in a Vet Clinic for 18 1/2 educational years doing everything from receptionist to assisting in surgeries. In that time I've seen, and learned a lot about the animal world. The knowledge I gained about the animal world, as well as the human world has carried over to my world of our Miniature Dachshunds. It all comes down to the safety of my babies and what's best for them. THEY COME FIRST.
I take pictures at different ages, and send them so their new families after the puppy has been reserved, so they can be a part of their lives as they grow.
If there is a certain sex, color, or coat type you are looking for just let me know. Deposits are accepted on available puppies on a first come first served basis. If you don't see a Doxie baby that you feel you'd be interested in, I will let you know if I have any future litters that are coming that may have what you're wanting.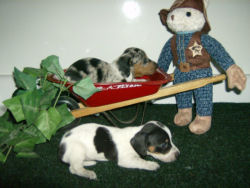 I just ask that you check back with me periodically. In the end it is fully your decision.
I want you to be happy with your new Doxie baby. After all, this little guy is joining your family, and is going to be in your lives for approximately the next 15 years. You, as well as your new family member, need to be happy in order to keep things in balance and stress free.
I do not end the relationship with new owners after the Doxie baby leaves. Everyone is encouraged to contact me if they ever have any questions. Pictures, or progress reports are also always welcome.
If you are serious about adding one of my Miniature Dachshunds to your lives, or if you are undecided and would like more information about our Dachshund babies then go to our DACHSHUND PUPPIES AVAILABLE for further information. If your questions are still not answered then please feel free to contact me. I take pride in who I am and it shows from my Doxie babies' nursery to the quality of my Doxie babies. I AM HERE TO HELP